My Essential Tech Tools for the ESL Classroom.
After spending 15 years in Vietnam teaching, I have experienced a wide range of tech availability in the classroom.
I have seen everything from high-end whiteboards like the one above to classrooms with just a fan. One thing I have learned is to make sure you are prepared before you step into the classroom.
There are a range of situations and classroom environments that if you are not prepared, will keep your teaching skills below par.
And with only a small investment and pre-planning you can go from zero to hero for both your students and your employer.
Where are you Teaching?
Most opportunities for teachers in Vietnam are either in a public school, like primary or high school or in an after-hours private school.
Some will teach in a business environment, but that is not our focus today.
Public Schools
The public schools in Vietnam start early in the morning with classes starting around 7 am to 7.30 am. They will generally finish around 4.30. This sounds like a long day but the students and teachers normally have a 2-hour lunch break.
This will give the students and teachers time for a nap if needed. It is not uncommon to see students stretched out on a mat fast asleep after eating their lunch. You will also see teachers stretched out in their chairs catching up on some sleep, especially if they had a big night prior to the day's class.
In most cases, the classes are made up of 45-minute intervals, sometimes with 2 periods of English back to back.
I had one school put together 4 x 45-minute lessons back-to-back. Challenging for both the students and the teacher. Luckily this is something that rarely happens anymore, at least for me.
One of the biggest challenges in public schools is the physical size of the classroom and the number of students in the classroom.
As teachers are used to 20 to 30 students in a western-style classroom. It should come as no surprise if you walk into a classroom of more than 50 students in Vietnam.
Public School Problems.
After reading this you probably understand the problems you are going to have in the classroom already. And I'm not talking about the crowd or behavioral control.
By keeping our focus on tech in the classroom the problems we see are the size and the noise in the classroom. Unless you have a decent microphone you will lose your voice by the end of the day.
You will want a microphone that provides a hands-free option, so you can use your hands for other classroom tasks.
Most schools will have WiFi but that does not mean you will have access to it immediately.
If you have planned a lesson that involves using a song or anything online you may have problems if you don't have immediate Wifi access.
You can also read about, "What are some of the common problems of ESL teachers in the Classroom" in one of my other posts.
Private schools
Private English schools are run outside public school times and run through week-nights and on the weekends. The school's teaching times will be early to late evenings, either 1.5 or 2 hours in length per class.
Saturdays and Sundays are the busiest days with classes operating through the whole day. There will be 2 classes in the morning, one in the afternoon and 2 in the evening.
Schools will close over lunchtime from 11.30 and re-open mid-afternoon.
Generally speaking, your private schools will be better resourced and will have CD players, TVs with HDMI cables, and in some cases "IQ" boards, overhead projectors, and computers in the classroom.
I prefer not to rely on any school's resources and now provide all my own. It saves teaching downtime, shows your professionalism and your lessons flow a lot more smoothly if pre-planned.
My Tech Tools.
Let me show you my essential tech tools for the ESL classroom in no particular order. And then I will show you how I use them and the alternatives you may need to consider if you can't find the exact ones I use.
Aporo headset.
This is my favorite tech lifesaver. With classroom student sizes hovering around the 50s and the actual area being quite large, you don't want to be straining your voice all day.
This wireless headset will give you good control of the level of your voice and the tone and clarity continue to amaze me.
The output of this microphone is 30 watts which always gives me "more than enough" power for my classroom needs.
What's Provided.
It comes with 2 headsets and can be pre-charged the night before your next days class. A full charge needs 6 hours of charging time which will give you 8-13 hours of microphone time or 6-8 hours of music time.
The size of the unit is approximately 135mm lengthwise, 101mm width-wise, and a height of 37mm. This is a good size that gives you the option of leaving it on the desk or carrying it over your shoulder with the secure fabric strap.
The monaural "headset" is comfortable and covers 1 ear, leaving the other ear free.
Sony Bluetooth Speaker.
When you play songs or any audio in the classroom, you want the sound to be the best that you can get in a size that is convenient. I have a Sony SRS-XB43 which delivers 30 watts of clean and clear audio.
The model I have while still described as SRS-XB43 has different length width and height specifications than the newer models. I measured my speaker, and it is 30cm x 10cm x 10 cm. All other specs look the same, however, the image is slightly different than what is advertised on the Sony website.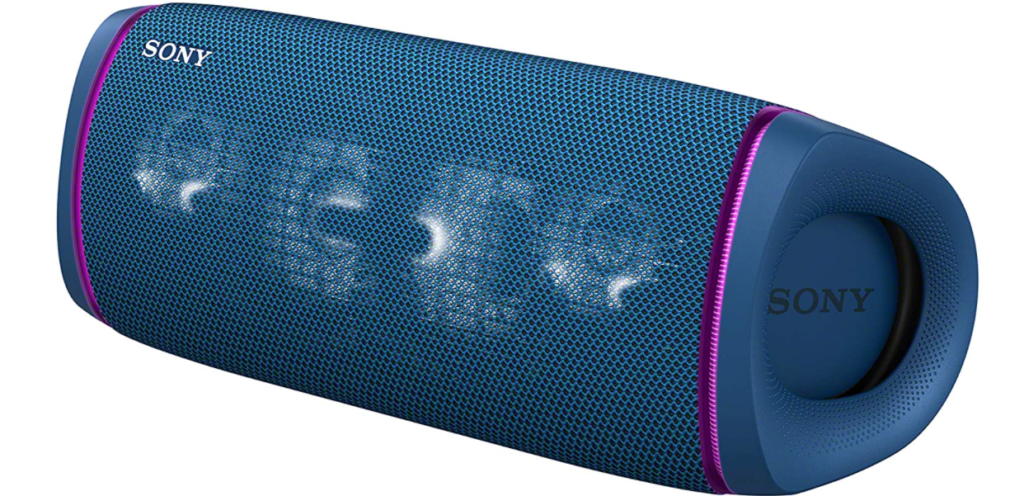 The speaker is waterproof and washable. Even though there is only 1 speaker it can link with up to 100 other speakers, however, I have never tried this. It also has a great battery life which means you can use it for up to 24 hours or 14 hours in party mode.
Party mode involves tweeter lights, speaker lights, and a colorful bezel that flashes in the same rhythm as the music. You can also change the color of the bezel lights to suit your mood. I use this in the Private schools classroom in the evenings and the students love it.
Sony products tend to be a bit pricier but the quality is fantastic and if you don't want classroom problems, this is a great choice. This comes with the standard Sony charger.
This has played without a skip for the last 2 years and I have been very happy with this product and strongly recommend it.
Samsung A12 Mobile phone.
Here is where I will get a lot of people disagreeing with me. Why Samsung? Why not Apple? Why a lower-end phone? 
First, why do I use an 'Android" or any phone in the classroom? The answer is easy, I use "Google Drive" to store all my working material for the classroom. Whether it's the "family and friends" books or songs or whatever resource the school is using on that day.
The night before I will prepare all my lessons and have them queued up ready for teaching. A little bit of preparation will make life so much easier in the classroom.
So why do I go for a lower-end Samsung for classroom use?. First and foremost, cost. The number of times either I, or someone else has bumped my phone and caused damage is not worth counting. Even with a slightly damaged phone, you can continue to work.
If I was to drop a $2,000 high-end phone my budget would be out the window for a month. However, if it was only $200-$300 I would not be so upset.
Conclusion.
These are my essential tech classroom tools. Things that save my voice, my sanity and keep me on track in the classroom. There are a number of other optional tech tools I use in the classroom. Not the least is a sturdy laptop or iPad.
However, these tools cover the basics and keep on ticking over because of the quality of the products.
I recommend you invest in the bare minimum to keep your classroom effective and efficient.
My name is Stephen and I have been teaching in Vietnam for 15 years and have my own school in HoChiMinh City.
Mynah School


If you need any help as to where you can purchase these from, leave me a message and I will help you choose the correct product.
---
Any or all links on this site may be affiliate links, and if you purchase something through those links I will make a small commission on them.
There will be no extra cost to you and at times due to my affiliation, you could actually save money.
You can read our full affiliate disclosure here.