Holiday in Halong Bay, Vietnam.
You have time off from your busy schedule. Whether a teacher on holiday or a tourist traveling around Vietnam, you can not miss Halong Bay. This is a "bucket list" must-do travel experience. Mind-blowing scenery awaits you when you visit Halong Bay.
Being recognized as one of the top 7 natural wonders of the world, Halong Bay is a UNESCO natural world heritage site situated in Vietnam. It is famous for its clear water and limestone islands. The bay also has caves that are said to be the most beautiful in the world, some of which you can swim inside.
The bay is located in the Gulf of Tonkin, which separates Vietnam from China. The bay has about 1000 limestone islands and some of them have been turned into resorts and hotels. Visitors can enjoy swimming, kayaking, biking, and hiking on these islands.
The bay's name comes from the vernacular "hào long" which means "where there are caves". Halong Bay has about 2000 limestone karsts and islands, many of which are still uninhabited today. These 1,900 large and small limestone islands cover an area of 1,553 square kilometers and they have many vivid shapes that make them a photographers dream.
Then
Halong Bay Formation.
The seascape, which has towering limestone formations and emerald lakes, dates back more than 500 million years. Contrary to popular belief, the bay was not formed by volcanic activity but rather by plate movement or tectonic action.

The present-day Ha Long Bay is the outcome of long-term geological evolution that was impacted by numerous variables. Halong Bay has undergone extraordinary historical development in addition to 500 million years of geological evolution.

Tens of thousands of years ago, according to historical research surveys, prehistoric humans lived in this region. And in more recent history Vietnamese sailors used it as a shelter from storms in the Gulf of Tonkin in the 17th century.
And Now.
The development of Ha Long tourism is further aided by the sophisticated transportation infrastructure. Ha Long has experienced exceptionally rapid economic expansion throughout time. A high level is invested synchronously in the infrastructure and facility system. As a result, when you visit Ha Long, it will undoubtedly satisfy all of your needs in terms of recreation, shopping, dining, etc.
The first-class provincial city of Quang Ninh Province and well-known as a tourism haven in the Northern area is Ha Long, which is around 180 kilometers from Hanoi. Halong Vietnam used to draw millions of domestic and foreign tourists each year because of its advantageous position (Next to Halong Bay). Covid made a dent in those numbers and improved them by reducing the number of tourists. However, in my opinion, this is going to change shortly, so you should act early to benefit from excellent prices and fewer tourists.
Times to Visit.
Ha Long's climate varies from month to month, and each season has its own unique characteristics. You should carefully examine the weather forecast before setting off on your journey because of this. You can choose from the following times to travel to Ha Long Bay in Vietnam:
From April to June: This is the best time for you to take a Ha Long tour to escape the stress of everyday life. Right now, it's nice and mainly sunny outside. As a result, it is perfect for sightseeing or spending time in the sun at some gorgeous beaches with your family and friends.
The busiest time of year is from June to August when plenty of families bring their kids to this city for the summer. As a result, both the demand for travel and the cost of accommodations and services rise. So, if you want to travel cheaply, you need to establish a particular plan in advance.
From late November to Tet Holiday (around February): This is when Ha Long Bay in Vietnam often receives a significant influx of foreign visitors. It is comparatively less congested than during the peak season, giving you more personal space to enjoy Ha Long tourism to its fullest.
On and Off the Path.
There is a whole range of different things you can do and this along with some "booking.com" information will help you plan that dream holiday. You can add things that take you off the path and show you a bit more of how the locals live and also add the "must-see" destinations that are normally mainstream.
Stay on a Junk.

You might not be aware of the wide range of choices while booking a hotel in Halong Bay.
Of course, you can stay at a conventional hotel, but if you'd prefer something different, you can also spend the night on a boat.
There are a lot of boats that double as hotels, and you can pick from big cruise ships to little, old-fashioned junks. It has been about 20 years since I last stayed on a "Junk" while sailing around Halong bay. And when I say Junk, I mean a palatial boat with my room totally laid out with Jade walling and all the modern conveniences you would expect in a 5-star hotel. And this was 20 years ago.
So if you want a full-on one-of-a-kind hotel experience in Halong Bay staring at the stars from the boat's deck while dozing off to the sounds of the waves, This is it.
Lan Ha Bay
Due to the popularity of Halong Bay as a tourist attraction in Vietnam, many of the islands get congested during the summer months.
In light of this, you might wish to visit Lan Ha Bay if you want to explore a more sedate area of the surrounding islands.
There are many activities available on the island, such as swimming, rock climbing, and sea kayaking. And the island alone is well noted for its white sandy beaches.
If you want to witness a piece of history, don't miss this because it is one of Vietnam's oldest floating residential neighborhoods.
Ban Sen Island.
The place to go if you're seeking adventure is Ban Sen Island.
This island in Halong Bay is one of the less popular ones and is covered in dense vegetation.
Take a ferry from Cai Rong to Quan Lan to get here, and then start your hike from there.
There are several guides in the area who can show you the frequently unmarked paths and regale you with tales of the island's flora and fauna.
Visit Hospital Cave.
If you like recent history you may wish to visit hospital Cave, it served as a covert medical facility during the Vietnam War as it was hidden from view and bombing.
It was constructed between 1963 and 1965 and utilized by leaders of the Viet Cong as well. It is around 10 kilometers from Cat Ba Town and was still in use in 1975.
A tour guide will take you around the 17 rooms spread across three stories, and you can even visit the operation area in addition to the cinema and swimming pool.
Rent a Sea Plane.
Consider booking a seaplane tour if you want to splurge out and explore Halong Bay from above.
There is no better way to view the karst formations that are famous in this region of Vietnam than from the air.
The seaplane rides in Halong Bay will lift you 300 meters above the water and allow you to fly over a number of noteworthy locations, including Dau Go Cave, Tuan Chau Island, and many others.
Kayaking at Monkey island.
If you want to take a boat tour in Halong Bay, Monkey Island, also known as Cat Dua in Vietnamese, is a terrific location.
A lovely private beach is available here, where you can spend your time tanning on the white sand or swimming and snorkeling in the clear waters. This is a great place to relax or do something more adventurous.
If you're feeling brave, you can also go sea kayaking here or trek the entire length of the island because there are so many beautiful trails that take you through the thick vegetation.
And so much more.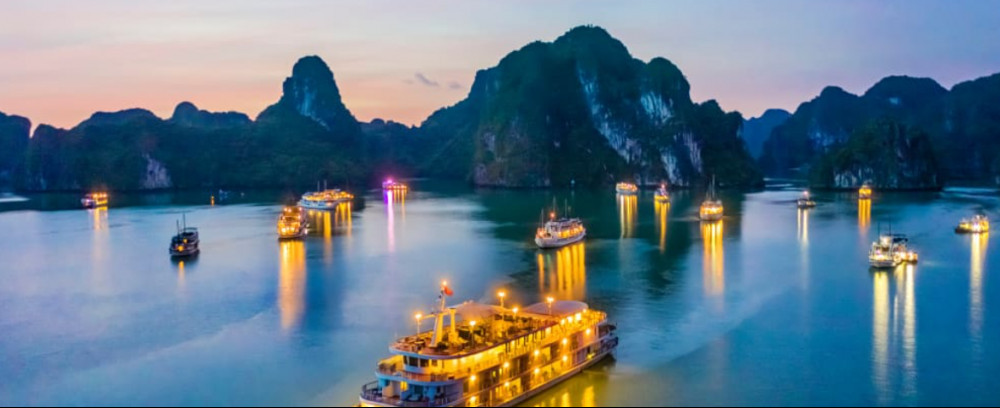 Halong Bay is a must-stop area when you visit Vietnam or if you are working here and have never visited. There is something for everyone and more for you to do than I can write about. Here are just some of the other things you can do as well.
Explore Me Cung Cave
Travel to Monkey Island
Travel to the shrine at Virgin Cave
Hike around Cat Ba National Park
Check out Fighting Cocks Island
Go night squid fishing
Visit Lan Ha Bay
Shop at Cat Ba Island Market
Dine on a seafood barbecue
Travel to Dau Be Island
Tour Cannon Fort
Go cliff walking at Cat Co 3
Hike on Ban Sen Island
Sleep on a boat
Shop at Bai Chay Market
Visit Hospital Cave
Grab a drink at the bia hoi stalls
Take a sea plane
Go kayaking around the karst formations
Final Thoughts.
I have lived and traveled extensively throughout Vietnam over the last 15 years. Ans Halong bay is one of my favorite places in Vietnam for its magnificent otherworldly scenery. It is a photographers delight and you will be amazed at the opportunities you will get.

After traveling extensively around Vietnam, booking.com has never caused any problems for me and I have used it for all my travel arrangements.
---
Any or all links on this site may be affiliate links, and if you purchase something through those links I will make a small commission on them.
There will be no extra cost to you and at times due to my affiliation, you could actually save money.
You can read our full affiliate disclosure here.