What is the Best Travel Luggage?

Short Trips or Long Vacations.
If you're only going on a short vacation, carry-on luggage is OK, but if you're going to be gone for a while, you'll need a larger suitcase that can be checked into the cargo hold.
Whether you check an ultra-modern hard-shell spinner bag, a conventional fabric case, or a big backpack, do your study to select the right size, shape, and type of luggage for your next vacation.
You may also want to look at the International Airport list before you decide on the route to take on your next trip. The International Airport List.
Checked Luggage.
Checked luggage is typically larger, thicker, and more inconvenient than cabin luggage. The sort of checked luggage you can use on an airplane is determined by how you move it to and from the airport, as well as the physical weight and size constraints imposed by the aircraft.
Carry-on luggage is convenient, but it may not have the space you require for longer trips. Treat yourself to one of those larger suitcases you've been eyeing if you're checking your luggage this time.
Most companies make cases, backpacks, and even bags in a range of sizes, so you could get a matching set for a few bucks. Keep in mind that medium-sized cases are easier to transport than large ones (and lighter, too).
Luggage Restrictions
Large cases are difficult to transport through airports, and each airline has size and weight restrictions, so check with the airline before flying.
Don't be the person that unpacks their overloaded suitcase at check-in to make it lighter. Before you fly, check with your airline to see what the weight restriction for checked bags is. Most airlines will charge you extra if your bag weighs more than 50 pounds. Or they may even refuse them at check-in.
You may be able to get around the weight restrictions by checking more than one suitcase at a time, but this will almost always cost you extra (and not every airline on every route will offer this service).
Suitcase vs. Backpack
Suitcases with two wheels are easy to draw behind you and are better fitted to travel across rougher terrain, but four-wheeled suitcases glide along by you and are considerably easier to maneuver in confined spaces like airplanes aisles.
When deciding between a 2- or 4-wheeled alternative, cost, practicality, and personal preference are all important considerations. A four-wheel spinner case glides quickly through the airport, but it can get caught on hilly walkways or uneven paths.
A two-wheeled variant can be dragged across almost anything, although it is shaky and bulky. Before you buy, try out a few pieces of luggage.
Hard Shell or Soft Shell
Another difficult decision you'll have to make is whether to acquire a gleaming new hard-shell case or a sporty-looking soft-shell case.
Hard cases are extremely robust, with smooth curves and vibrant exteriors, but they offer less interior room flexibility (and are more prone to wonky wheels and failing handles).
Soft cases aren't always as attractive as hard cases, and they don't always provide the same level of protection. They do, however, usually have more usable interior capacity, handy external pockets, and are much lighter to carry and manage.
Any case's quality and longevity will be determined by its make and model, so keep in mind the old saying "buy cheap, buy twice" when purchasing.
My Top 5 Suitcases.
Samsonite Omni expandable carry-on luggage.

20″ SPINNER LUGGAGE maximizes your packing power and meets most carry-on size restrictions for those traveling domestically and looking for short stays. Great weekender.
10 YEAR LIMITED WARRANTY: Samsonite products are rigorously tested to ensure our products meet stringent standards. This bag comes with a 10-year warranty against defects in materials and workmanship.
STAY POWERED UP Enjoy the luxury of a charging system that travels with you, designed to connect with your preferred battery
---
Samsonite Winfield 2

28″ Spinner luggage maximizes your packing power and is the ideal checked bag for longer trips
Packing dimensions: 28.0″ X 19.75″ X 12.5″, overall dimensions: 31.0″ X 20.0″ X 12.75″, weight: 11.5 pounds
10-year limited warranty: Samsonite products are rigorously tested to ensure there products meet stringent standards. This bag comes with a 10-year warranty against defects in materials and workmanship.
---
Travel Pro Maxlite 25

A half pound lighter than max lite 4, this lightweight 25-inch spinner maximizes your packing power and is the ideal checked bag for medium to long trips
4 wheel spinners rotate 360 degrees for a smooth roll. The lightweight, sturdy PowerScope handle stops at 38 inches and 42.5 inches and features a patented contour grip with rubberized touch points for easy maneuvering. Unique bottom tray design increases durability
Expands up to 2 inches to maximize packing capacity. Features low profile top, side, and bottom carry handles, two exterior compartments, full-length interior lid pocket, side accessory pocket, and adjustable hold-down straps for packing convenience
Limited Lifetime Coverage plus trusted companion promise, which covers the cost of repair for damage from an airline or another common carrier for 1 year
Case Dimensions: 25x18x11, Overall Dimensions: 27×18.5×11.5, Weight: 7.3 lbs. H20 Guard protects the interior lining from moisture
---
DELSEY Paris Chatelet Hardside 2.0 Luggage

Made from durable material for long-lasting use. Lightweight 100% polycarbonate shell that is extremely resilient to cracking or breaking; designed with stylish faux leather accents with additional corner protectors for extra durability.
Double-spinner wheels provide a stable base with multi-directional rolling that is lightweight and comfortable when fully packed.
Ergonomical handle for easy maneuverability and soft-grip side and top carrying handles; includes laundry bag, shoe bag and mesh zippered pockets for additional organization.
OVERALL DIMENSIONS : 16.5 x 14 x 28/75 inches.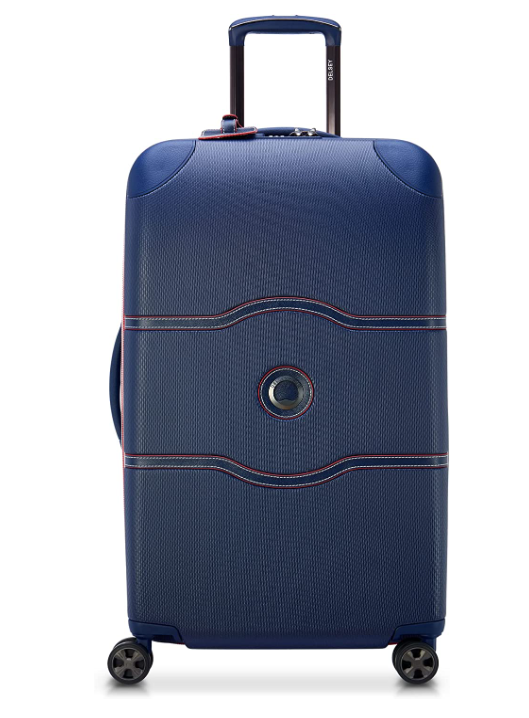 ---
Briggs and Riley Baseline.

Expandable Luggage: This swivel wheeled bag expands 2.5 inches for up to 25% more packing space. Cinch-down mesh garment panels keep contents from shifting and minimize wrinkling, Outsider handle provides greater interior capacity. Free TSA lock included
Durable Construction: Made with ballistic nylon outer fabric that resists wear, moisture, dirt and abrasion. A lockable double zipper pull keeps contents secure and SpeedThru pocket allows quick access to travel items at security checkpoints
Lifetime Guarantee: The only luggage company that offers an unconditional lifetime guarantee. If your bag is ever broken or damaged, we'll repair it free of charge, no proof of purchase is needed, and no questions asked
---
How to Choose the Best One-Bag Travel Backpack

Traveling with only one bag gives you a sense of liberation. All of your vital belongings are within reach, forcing you to forego many of life's ostensibly required consumer things that you could definitely do without. You may simply move from place to place with just one bag, always having just enough but never too much.
Choosing the ideal travel backpack for one-bag travel is a difficult task. There are a plethora of brands and models to pick from, each with its own level of durability, affordability, and try-on-ability (we made this word up for trying something out before buying it online). When you throw in different points of view and perspectives from people with varied values, needs, and body kinds, you've got a real slew of possibilities to sort through. Having the finest travel backpack that fits you is vital, whether you're a first-time traveler planning your first trip, a digital nomad going through a "sell everything and put it in a backpack" period, or somewhere in between.
---
My Top 5 backpacks
Shrradoo

Large Capacity and Organized: Men's travel backpack owns 20 independent pockets for large storage and organization for small items. 3 spacious main multi compartments with many hidden pockets can accommodate lots of stuff like college supplies, travel accessories, stationery, notebook, cord organizer, and side deep zipper pocket for easy access essentials. Side elastic net pockets conveniently hold travel gear umbrellas or water bottles.
Extra Large 50L Travel Laptop Backpack with USB Charging Port Fit 17 Inch Laptops
---
Kaka Travel Backpack.

Durable anti-theft travel bag: This backpack is Made with high-quality terylene oxford fabric. It's a very durable backpack, Anti Theft, Water Resistant, Scratch Resistant, Professional design, and strap with high-density soft decompression foam for your comfort. 
Carry On Backpack Durable Convertible Duffle Bag.
Durable anti-theft travel bag: This backpack is Made with high quality terylene oxford fabric. It's a very durable backpack,Anti Theft, Water Resistant, Scratch Resistant, Professional design, strap with high density soft decompression foam for your comfort.
Larger Roomy Compartments: A total of 10 pocktes. 1 Main zipped pocket, 3 front zipped pockets, 1 side mesh pocket, 2 small strap pockets and 3 pockets in the large front zip pocket,It can provide separated space for computer, iPad, A4 files, wallet, clothes, power bank and more your items.
Large-capacity Backpack: The backpack Size – 20.5 X 12X 6.7 inches, Laptop Compartment Dimensions – 18 X 11 X 6 inches Capacity: 35L (Large size fits most 15.6″ Laptop.)weight:3.68 LBS
---
G-FAVOR 40L Travel Backpack, Vintage Canvas Rucksack Convertible Duffel Bag Carry On Backpack Fit for 17.3 Inch Laptop Ba

3-in-1 multifunctional backpack: Convertible backpack (backpack, shoulder bag, hand luggage bag), the bag is designed with straps, shoulder straps, and hand straps, and you can use several different carrying methods to give you a different experience.
Travel Backpack, Vintage Canvas Rucksack Convertible.
 MULTI-FUNCTIONAL TRAVEL BACKPACK. This carry on backpack designed as a convertible backpack (backpack, cross-body bag, duffel bag backpack), this travel luggage backpack can use several different carrying methods to give you a different experience. Comfortable design gives you maximum back support. Breathable and adjustable shoulder straps relieve the stress of shoulder for a long time carry on.
LOTS OF STORAGE SPACE & POCKETS. The laptop backpack with a main compartment and a 17.3 inch laptop compartment, it has independent pockets inside, in which small items can be easily stored. There are several compartments on the computer backpack, and there is a waterproof shoes compartment, make your items organized and easier to find.
---
High Sierra Dells Canyon Travel Backpack.

A stylish orange and grey backpack
Take on any TSA line with the quick-draw laptop and tablet compartment
Grab your gear on-demand with stay-in-place front zip organizer.
Multiple grab handles on all sides make traveling easy from any angle.
Discrete luggage piggy-back strap and compression straps.
Hike happy with Airmesh straps made from premium EVA foam
Avoid swamps and swamp-back with ventilated Airmesh back panel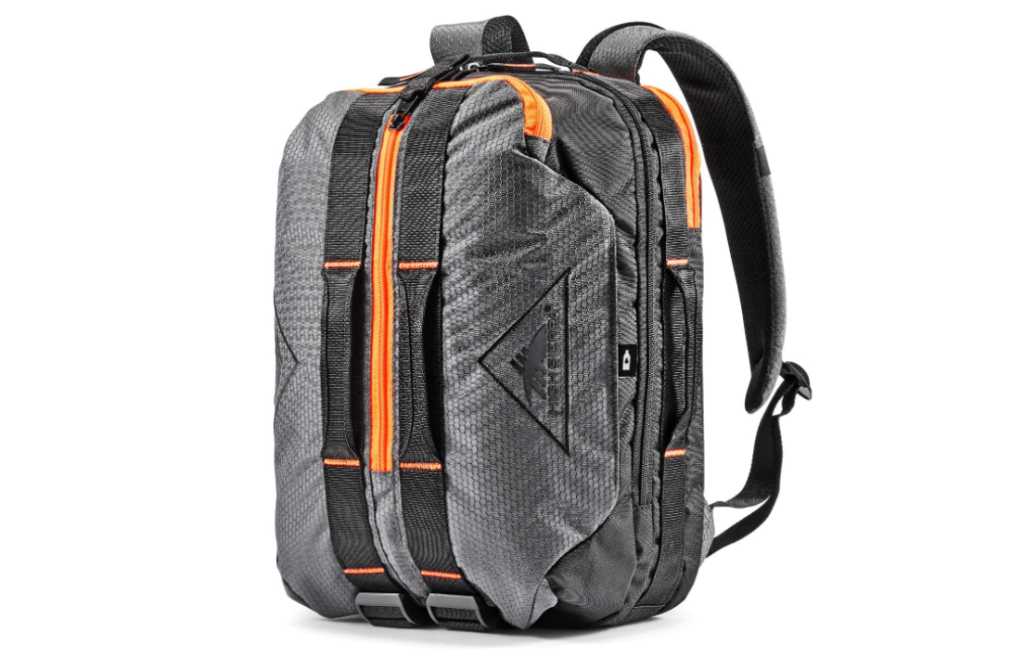 ---
High Sierra XBT – Business Laptop Backpack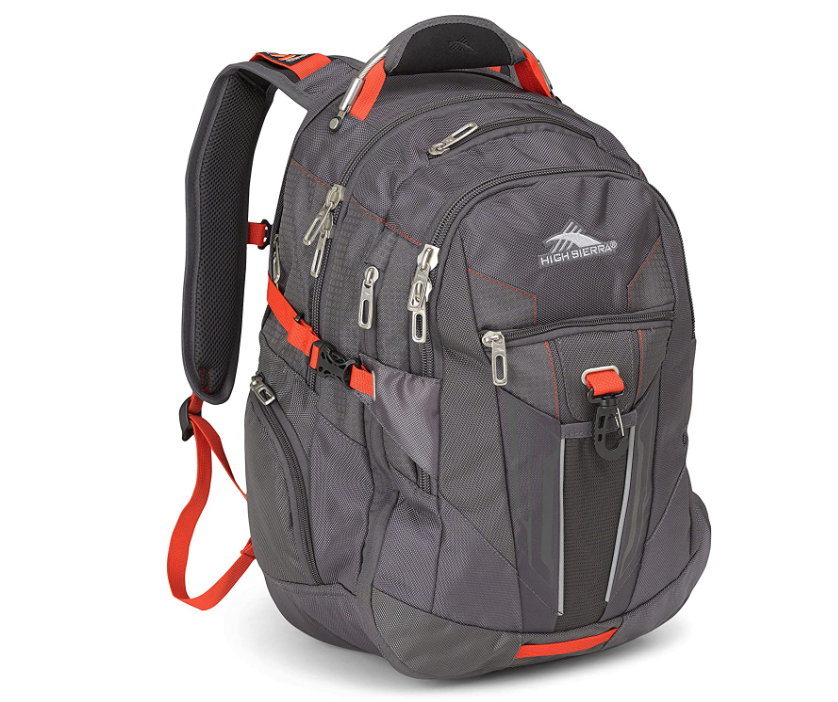 Whatever piece of luggage you have decided on when travelling in Vietnam, or anywhere, please keep a close eye on it. Vietnam is a safe country to travel in, and most crimes here are opportunistic crimes. Petty crimes, like bag snatching, do happen. So, it pays to be aware especially around bus stations and airports where there might be 2 or 3 people wrkinh together to relieve you of your new luggage..
When investing your money into anything like this, it is my opinion to spend a little more and get quality rather than purchasing goods that need to be replaced frequently.
Whatever you choose make sure it is right for you. Buy cheap, buy twice.

Affiliate Disclosure.
---
Any or all links on this site may be affiliate links, and if you purchase something through those links I will make a small commission on them.
There will be no extra cost to you and at times due to my affiliation, you could actually save money.
You can read our full affiliate disclosure here.
Any money made is used in helping the students and teachers in Vietnam. Thanks so much.