Ho Chi Minh City has been in a partial lockdown for the last 6 weeks. Now the government has announced that all of ho Chi Minh City will be in complete lockdown mode for the next 15 days. wearing masks and social distancing is being enforced.
ESL Teachers ( English as a Second Language)
The teachers that are here are either waiting for the schools to re-open or teaching on line. Some, like me, have opened a second business or undertaken a new job like Affiliate marketing with Wealthy Affiliates.. For those who wish to come to Vietnam you will need to do a couple of things to prepare. First off, get your Covid shots done and along with your normal paperwork (degree, teaching certificate, police and health check) you will need a sponsorship letter from your future employer. When you do arrive you will need to quarantine yourself for 14 days.
Then, when here, you will need to get a work visa and a temporary resident card. The schools normally help with this and depending on the school you can negotiate who pays and how much. Some will pay the lot, some 50/50 and others nothing at all. At the moment the schools are starting to prepare to recruit teachers and the public schools should re-open in September. This is the start of the new semester. The English centers will hopefully open before this.
But we are at the mercy of the governments decision on re-opening schools. Ho Chi Minh city has been the worst hit for covid19 with over 8,000 people being infected. Yesterday, July 8th, were the final school tests and all students in their final year should have sat their exams.
Government edicts on Covid.
Now the government has said to be prepared for the strictest movement restrictions to curb the spread of Covid 19. The P.M has asked all localities (police etc) and Ministries to implement strict solutions to prevent, detect, isolate, suppress outbreaks and provide active treatment and pay special attention to the implementation of social distancing and lockdown. Ho Chi Minh city will also control the entry and exit of vehicles into the city.
Many traditional markets have been closed down and there are food shortages in the supermarkets (those that are open) as well as steep price rises. And people have been advised not to go outside their houses unless absolutely necessary. Any new arrivals into Ho Chi Minh city from other districts or cities must also quarantine for 7 days with Covid tests being done on the 1st, 3rd and 7th day
Tan Son Nhat International airport. H.C.M.C.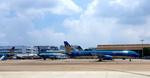 Once, Tan Son Nhat Airport ( Ho Chi Minh city) normally received 550 to 720 or between 85,000 to 109,000 passengers every day. in contrast it has handled fewer than 200 flights and 3,000 passengers a day between last Monday and Thursday. Vietnam airlines, Vietjet Air and Bamboo Airways have incurred short term debts of around VND36 trillion (US$ 1.56 billion).
So, the people and the companies have been hit very hard financially. It will take a long time to recover and for some it is lock the doors and walk away from the business.
School recruitment of ESL teachers.
However the schools are starting to advertise and this is an example of what is being offered.
URGENT: Horizon International Bilingual School is looking for Native English Teachers for Primary level Requirements:- Native English speaker(US/ UK/ Canada/ Australia/ New Zealand/ Ireland/South Africa)- CV& application letter- Teaching Certificates (CELTA, TESOL, TEFL. . .)- Holder of university degree with majors in Linguistics, English teaching, Science or Humanities- Experience in Teaching at least 3 years Benefits:-Free Lunch-Bonus salary at the end of school year-Travel expenses up to $800-$1000-Full salary during holidays , up to 2200 $ salary per month-School will provide work permit and resident card.
You can start looking and if you get a job you can then organise your sponsorship letter and all the paperwork I talked about before.
Prior preparation prevents poor performance.
At the same time you may want to learn a little Vietnamese. This is something I highly recommend as it can be helpful in the classroom and in everyday life.My favourite app for learning is Mondly. I have written about this before and you can find more information about this on my website. Click on the link below to find out more.
Mondly App | Best App to Learn Languages – Teaching ESL in Vietnam 2021 (vietnamesl.com)
And if you wish to be fully prepared, you can also organise your technology needs. Once more, click on the links below to find out more.
Product review: Blue-tooth headset/Amp. – Teaching ESL in Vietnam 2021 (vietnamesl.com)
Great Teachers Tool – Teaching ESL in Vietnam 2021 (vietnamesl.com)
As my father used to say prior preparation prevents p— poor presentation.
I hope this gives you an update of what is happening in Ho Chi Minh city and how you can use this time to prepare for when classes start again. if you wish to ask me any questions or you would like to leave a comment I am happy to read and reply to all questions or statements.
I wish you all the best in these crazy times and if you need any help when you arrive (Or even if you are here already) please leave a message and I will respond to your request..