Vietnamese food.
Vietnamese food is spicy, fresh and full of flavor. it is an orgasm in the mouth. If you have never tried Vietnamese food you are in for a wonderful experience.
Noodles and rice along with meat, fish, vegetables and a dipping sauce are a staple of the Vietnamese people. But do not think it is bland or boring. The dipping sauce might be Soy sauce with chilies to spice things up.
The meat, quite often pork, might be wrapped in a lettuce leaf. Vietnamese herbs are also added along with cold rice noodles and dipped into the sauce. An amazing taste that will leave you wanting more. And there is so much more.
From the smallest food stalls to the fanciest restaurant you will always find something you will like. An exciting gastronomic experience awaits the foodie in us all.
Hungry and Homeward bound.
I was hungry. I was on my motorbike. It was 11o'clock at night. What could I eat? I was ravenous. I was thirsty and it was hot.
The Vietnamese have a vibrant dining culture that includes late night eating. You can be out late at night and see people sitting around on plastic stools. Slurping and drinking beer. This is heaven.
While driving down the backstreets of Go Vap. An area of Ho Chi Minh City not frequented by expats. I could see the small moveable carts surrounded by plastic stools.
The carts are moved at night to the same location by the owner and cook. Then moved back to their home later.
The smells were amazing. I had to stop. Eleven Vietnamese workers, on their way home after work, were sitting on plastic stools. Waiting for their food.
I pulled up on my motorcycle and sat down. Eleven friendly faces smiled at me and nodded.
Ordered my food by pointing and nodding. I asked for a beer. Then I looked around. No one else had a beer. Beer and food go together in Vietnam so I bought everyone a beer. It was instant love. Thumbs up from all, everyone happy. I had everyone come up and shake my hand. Little things count in Vietnam.
And then the food came out. I could smell it first and it was the nectar of the gods. Then a bowl of noodles with meat and vegetables was placed in front of me. Bean sprouts, noodles, mint and meat. A big soupy bowl made with love.
Chopsticks in hand, I attacked.  The tastes exploded in my mouth. I tried to take my time to enjoy the taste but I couldn't stop shovelling it into my mouth. This is Vietnam food. An experience to be enjoyed and shared.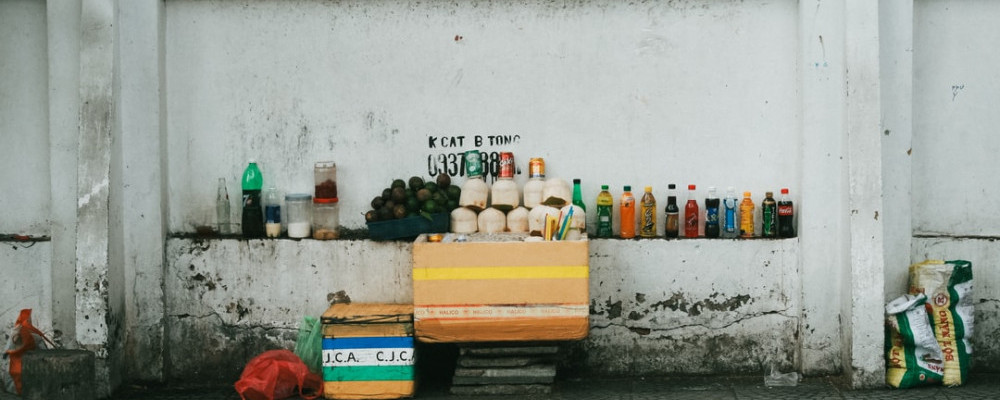 Must try foods.
Vietnamese food is becoming more recognized. Most have now heard of Pho and Banh Mi. But there is so much more to experience. Whether you are here on holiday or plan to work in Vietnam the food experience will excite you.
Here are a few of my favorite dishes.
The tastes from the humblest banh mi "sandwich" to the delights of soupy love will make you yearn for more.
Pho.
The mainstay of Vietnamese food. Widely popular and largely eaten for breakfast. Pho is made with flat rice noodles and mixed with slices of beef or chicken. Beef being the most popular.
The beef can be added either cooked or uncooked. The boiling broth will cook the meat as you wait. I much prefer this style as it keeps the beef tender.
The broth is what makes the Pho either great or only good. Everyone has their favorite Pho shop or stall.Mine is in Go Vap made by an old man and his wife who always smile and say hello to me.
The broth is made with star anise and cinnamon and cloves and adds a sweetness to the mix.
Then add the bean sprouts, mint and basil along with a squeeze of lemon and a small amount of chopped and crushed chilli and you will be  in foodie heaven.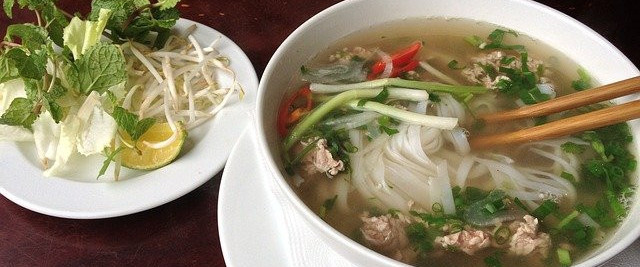 Banh Mi   
It's morning and I am running late for work. I am hungry. What will I buy?. A Banh Mi sandwich
A crispy bread roll smeared with pat'e and margarine. The fillings will include pork and cucumber and pickled vegetables and fresh cilantro. Sometimes I put a soy mix onto it as well.
It sounds simple, but bite into it and you will discover joy. This has saved me from hunger too many times to count. Standing and waiting with the local Vietnamese is also a great experience.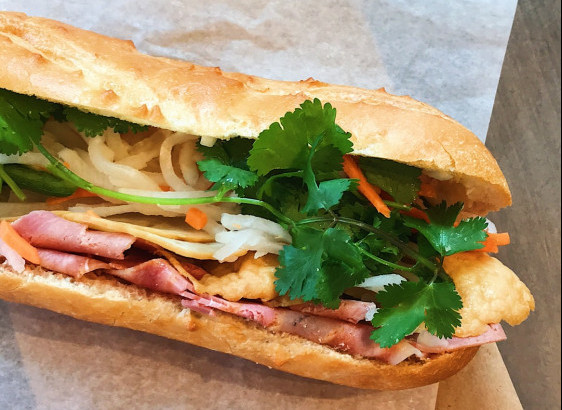 Com Tam.
Like Pho, everyone has their favorite Com Tam stall or shop. Mine is in Binh Thanh, close to a hospital. Which is a great idea for me as I eat so much of it that one day I will keel over with pleasure.
Com Tam is made with "broken" rice and a caramelized pork chop or a piece of chicken. For me the best is the pork.
The final touches include a side of shredded pickled carrots and daikon, slices of cucumbers and tomatoes, and fried pork rinds and shallots for garnish.
Add to this a drizzle of green onion oil and nuoc cham. Nuoc Cham is a mix of fish sauce and sugar and chilli.
Eat this and you will never want to leave Vietnam.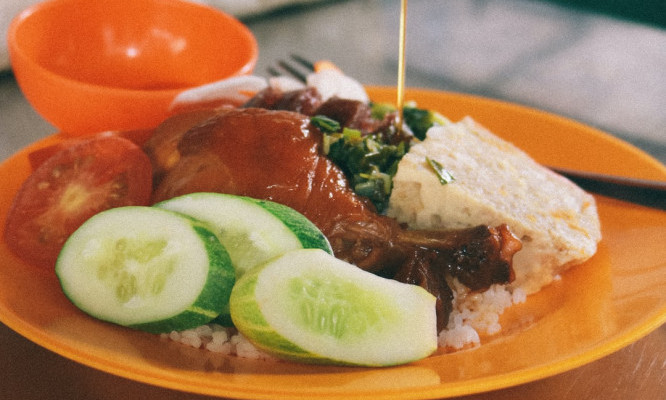 Bun Bo Hue.
Bun Bo Hue is both beauty and taste. This amazingly colorful broth is the first sign of its strong and likeable flavour.
This is the result of hours spent simmering beef bones and stalks of lemongrass to produce a citrusy bowl of love
Add boiled vegetables with tender beef shanks and you will get slurpy satisfaction.
Beef soup, the word "bo" is Vietnamese for beef, but don't be surprised when you see slices of sausage lurking in the bowl.
Cha Lua is a sausage made of ham paste that has a texture similar to  tofu.
Delicious and delightful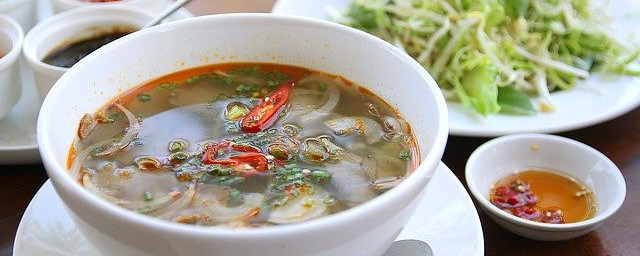 Banh Xeo.
Now we are talking. Fresh and fragrant and if you have never eaten it, you haven't lived. Banh Xeo is a flat eggy looking pancake mix of meat, prawns and Vietnamese herbs and vegetables.
But is it with eggs, no, the  batter is made from rice flour and coconut milk. The yellowish tint is due to the addition of turmeric.
This savory pancake is filled with slices of boiled pork, minced pork, bean sprouts and shrimp and then folded in the manner of a crepe. A  bahn xeo shouldn't be too soggy and is best eaten fresh off the skillet.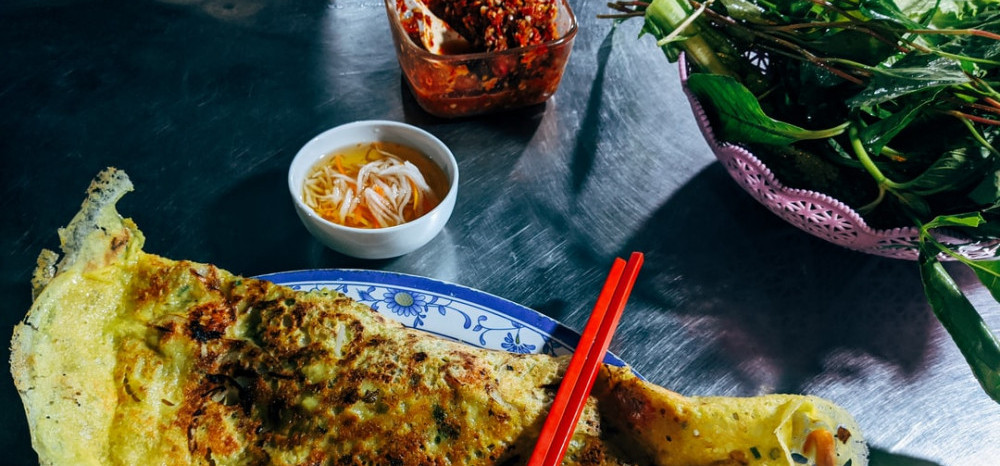 And after this we must have dessert.

Che.

Che is a dessert but is often bought by students and adults as a yummy cooling snack through the day. After a morning in the classroom and feeling sweaty, Che will take you away to the beach.
Che can be served either hot or cold. my preference being cold. Cold che is filled with jelly and tropical fruits. Bananas, mango and longan being popular. Coconut cream, red beans, mashed mung beans, crushed ice and lotus seeds can be added to this rainbow of delight.
Che is a tasty textural sensation. it will have you on your knees begging for more.
Conclusion
These are my top five "go to" meals and one dessert. There is so much more to discover and try that it would lead to fifty pages or a book if I tried to document them all.
Vietnam, it's food and it's people are amazing. It is well worth the time to travel here. look at my other pages about Vietnam to discover it's hidden secrets. I hope to see you here. www.vietnamesl.com
To find out more about the food of Vietnam, have a look at these books that I highly recommend.
Any or all links on this site maybe affiliate links, and if you purchase something through those links I will make a small commission on them.
There will be no extra cost to you and at times due to my affiliation you could actually save money.
You can read our full affiliate disclosure here.